"I TRULY BELIEVE THAT THE ANSWERS LIE WITHIN US, THAT WE ARE CREATIVE, RESOURCEFUL AND WHOLE".
IN A PLACE OF POSITIVITY, KINDNESS, SAFETY, CONFIDENTIALITY, THAT IS FREE FROM JUDGEMENT, AN INDIVIDUAL CAN ACCESS THEIR FULL POTENTIAL, EMPOWERING THEM TO MOVE FORWARD IN WHATEVER DIRECTION THEY CHOOSE TO FOLLOW.
Pamela Renwick is a professional coach with almost 20 years' experience in the Health and Wellness industry. She has completed internationally recognised and accredited training with the International Coaching Federation. 
As a certified Yoga, Meditation instructor and Pilates Master trainer, Pamela is passionate about health and fitness. 
Her specialist areas are personal (life) coaching, career coaching, stress management, wellbeing and corporate wellness. Pamela adopts a holistic approach to her coaching and uses specific breathing techniques, mindful meditation and movement to encourage people to be the best version of themselves.
In 2016 Pamela was involved in the setup of OSLO Health, one of Dublin's leading 5star boutique Pilates and Yoga Studios. As part of her role, she worked with local organisations to provide wellness solutions for their employees. 
Before entering the Health and Wellness world, Pamela spent 10 years working for Recruitment. Initially employed as a recruiter based in Dublin, Pamela went on to lead several projects recruiting in Europe for Dublin based multinationals. During her final years in the industry, Pamela was responsible for recruiting, managing and training teams of recruiters, setting up new regional branches and business development. 
Pamela is a Spotlight practitioner and is currently pursuing her next accreditation with the International Coaching federation. For further information on Spotlight Accreditation, click the logo below.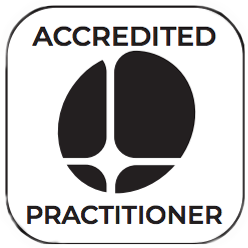 "You can't stop the waves, but you can learn to surf."
Jon Kabat-Zinn